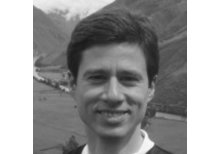 Oskar Casquero
Lecturer
Universidad del País Vasco /Euskal Herriko Uniber
Tel: 946014459
Research Areas
Smart & Flexible Automation Production Systems
Curriculum
From 2004 to 2007, Oskar Casquero worked as an IT Architecture Analyst at the Virtual Campus of the UPV/EHU, where he contributed to the design, development and deployment of the services that constitute the IT core of the Virtual Campus as it is known nowadays. Since 2007, Oskar has worked as Assistant Professor in the Department of Systems Engineering and Automatic Control, first at the University College of Technical Industrial Engineering of Bilbao, and currently at the Faculty of Engineering in Bilbao.
As a lecturer, he has developed his teaching career in industrial engineering (digital electronics, designing with microcontrollers, and industrial automation and control) and computer science (computer networks and web systems). As a researcher, during the 2010-2015 period, his research focused on Personal Learning Environments (PLE), and he published 4 papers indexed in JCR (2 Q1, 1 Q2 and 1 Q4) and 1 paper in SJR.
Later, he moved towards the design of Biological Warning Systems (BWS) in aquaculture. Taking this area as a base a) for the design of complex, distributed and reconfigurable applications and b) of the exponential growth and availability of loosely-structured data, he developed algorithms, software tools and statistical analysis to help further develop BWS into Intelligent Aquaculture structures. Results include 2 papers indexed in JCR (1 Q1 and 1 Q2). At present (2018), Oskar has made a new step forward in the design of distributed software architectures and data analysis, and has become part of the GCIS research group at the Department of Systems Engineering and Automatic Control, where he is committed to the study of blockchain as an enabling technology for the management of the large and complex data sets that are found in distributed intelligent platforms at plant level.
Teaching
Sistemas Web (Grado en Ingeniería Informática de Gestión y Sistemas de Información)
Automatismos y Control (Grado en Ingeniería en Electrónica Industrial y Automática)
Automatización Industrial (Grado en Ingeniería en Electrónica Industrial y Automática)
Aplicación de las TIC en investigación
?>